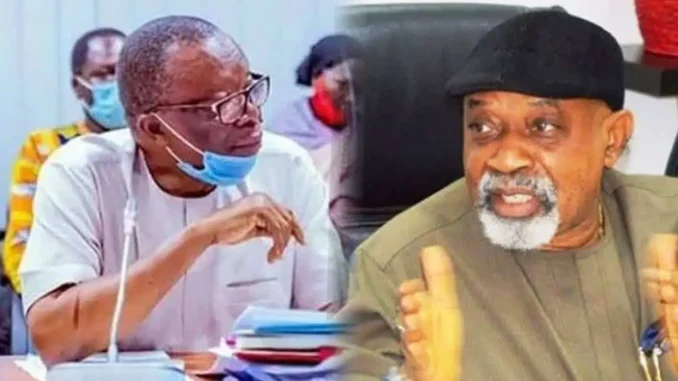 The Court of Appeal's Abuja Division on Wednesday asked the Federal Government and the striking members of the Academic Staff Union of Universities, ASUU, to opt for an out-of-court settlement of their dispute.
As a result, the appeal court, in a majority ruling by a three-judge panel, postponed hearing on the Appeal ASUU submitted before it for another 24 hours.
It stated that the decision was made to allow the opposing parties to reflect and re-approach the bargaining table in order to resolve problems amicably.
After the matter was called up for hearing, Justice Georgewill Biobele Abraham urged FG's lawyer, Mr. James Igwe, SAN, and ASUU's counsel, Mr. Femi Falana, SAN, to take a patriotic stance and express the court's position to their clients.
"Everything has its time." There is a time for war and a time for peace. As ministers in the temple of justice, we wish to see you both as senior lawyers to promote and explore a peaceful resolution to this issue.
"In fact, we expect to return to this court on Thursday (today) with good news that the matter has been resolved, and all of Nigerians will be grateful to you."
"So, talk to your clients about considering the national interest for the sake of our children." "As you leave here, go sit down and talk about it," Justice Abraham continued.
In response, FG's counsel, Igwe, thanked the panel for the admonition and pledged to examine the matter further with ASUU's lawyer.
Falana, SAN, for his part, stated that his clients were always open to communication and that he had previously launched a similar approach.
Falana, on the other hand, emphasized that a balanced resolution of the disagreement would require a give and take from both parties.
Meanwhile, the panel, presided over by Justice Barka Hamma Akawu, said it will hear ASUU's plea to delay the implementation of the National Industrial Court's (NIC) decision to stop its continuing strike.
Igwe, FG's lawyer, claimed that he was not served with a copy of the September 28 motion.
Recall that on September 21, the NIC ordered ASUU to end its seven-month-long strike embarked on since February.
It ordered ASUU's striking lecturers to return to the classroom pending the outcome of a lawsuit brought by FG to challenge the legitimacy of their strike.
However, ASUU  filed a 14-ground appeal to overturn the judgement, while also seeking a stay of execution.