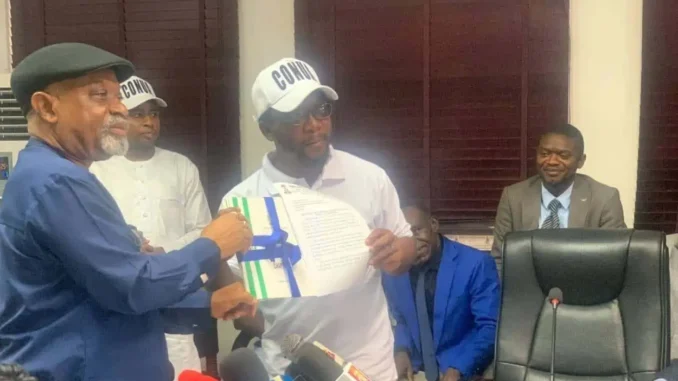 Federal government of Nigeria has approved registration certificates to two more university academic unions.
The two new unions are; Nigerian Association of Medical and Dental Academics (NAMDA) and the Congress of Nigerian University Academics (CONUA).
On Tuesday, the Minister of Labour and Employment, Chris Ngige, presented certificates of registration to both unions at the ministry.
This new initiative by the Federal Government is aimed at bringing the Academic Staff Union of Universities (ASUU) to its knees over the nearly eight-month-long strike embarked on since February.
"These associations will coexist with ASUU in Nigerian universities," Mr Ngige said, citing an ILO convention.
He cautioned newly registered academic unions against interfering with the activities of the university administration and governing council.
He stated that ASUU is interfering with employers' rights by insisting on the use of the University Transparency and Accountability Solutions (UTAS) as a payment platform for its members.
The minister's latest move could be related to the recent disagreement between him and ASUU's President Emmanuel Osodeke.
The two had heated arguments during a meeting on Thursday, which was convened by House Speaker Femi Gbajabiamila.
The minister accused Mr Osodeke of intentionally impeding the government's efforts to resolve the crisis and mobilizing Nigerians against the government, but the union leader accused Mr Ngige of spreading lies about the union.
Mr Ngige and the ASUU leadership have been constantly at odds, which may have influenced President Muhammadu Buhari's directive that the Minister of Education, Adamu Adamu, take over the negotiations.
The registration process for CONUA, a rival academic union to the striking Academic Staff Union of Universities (ASUU), began in 2018.
The union, led by 'Niyi Sunmonu, an Obafemi Awolowo University (OAU) lecturer, has since consistently distanced itself from any strike declared by ASUU.